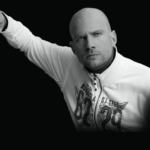 Music Producer / Performance
Available now on:
Infos:
Follow me:
DJ SHOG was born as Sven Greiner in Hamburg on November 8th 1976. In the early nineties, he began to develop his interest in deejaying and electronic music. After performing at school festivals and private parties, SHOG took part in several DJ competitions and got some resident jobs in clubs in Northern Germany.
DJ SHOG's breakthrough was the double-CD compilation series "Technis DJ Set". The first CD is mixed by himself, the second one by well-known guests like Cosmic Gate, Dumonde, Talla 2XLC, Green Court or Nic Chagall.
With "This Is My Sound" (Top60 in Germany and Top40 in UK), "The 2nd Dimension" (Top60 in Germany) and "Another World" DJ SHOG solidified his fast and furious career.
The success of "Another World" was so mind-blowing that it really seemed to come from another world: the single remained in the Top40 for nine weeks and in the German charts for more then three month, which is quite unordinary in the fast moving dance market.
The follow-up singles, "Live 4 Music" and "Running Water", reached the Top40 and Top50 and were part of the set of many well-known international DJs. In 2006 DJ SHOG finally released his first solo album, "My Sound". It entered the German charts at #55 and remained there for four weeks. Some weeks later, at the DJ Meeting in Duisburg, DJ SHOG was voted as #3 in the category "Trance DJ National", surpassed only by Paul van Dyk and ATB.
The first single "Stranger On This Planet" from his second album "2Faces" entered once again the german sales charts just like the album in summer 2007. In the beginning of 2008, another track from this album was released – "(Feel Me) Through The Radio" with a couple of remixes from Duderstadt, Inpetto and of course from himself a SHOGs 2Faces Remix. This single was a great international success with the support of all key DJs.
In addition to mix tracks, Sven Greiner also diligently produces them. Together with E-Cutz he produced the three hymns "Summer Sound System" (2002), "Alive&Kickin'" (2003) and "The Golden 10" (2004) for Germany's biggest Open Air dance event, Nature One. Moreover he is jointly responsible for various other projects.
Recently DJ SHOG also produced some remixes under the name of his side project 2Faces, to show his second, more progressive and trance sound face. These mixes ("Beam pres. Michelle Aragon – Silent Tears", "Kuffdam&Plant – Dreammakers", "Bossanova – Stonecold" among others) have been played by famous DJs like Paul van Dyk, Tiesto, Armin van Buuren and will make him more popular as both DJ and producer.
With the remix-works of renowned acts like DJ Sammy, Cappella, CJ Stone, Three Drives, Ayu, DJ Tatana, Ian van Dahl, Lasgo, Filo&Peri DJ SHOG has become an essential part of the global dance scene.
By playing a number of big events like Nature One, Streetparade, Love Parade, G-Move, Energy, Nautilus, Goliath, MDR Sputnik Turntabledays, Airbeat One DJ SHOG has proved his international class and he is still on the road to heat up the dance floors in places like Poland, Switzerland, Hungary, Austria, Estonia, France, England, Ibiza, Russia and Thailand, to name a few.
A big celebration in 2012 – "DJ SHOG 10Years"-anniversary including a new album with the same name – coming end of the year with exclusive remixes of all his big hits and brandnew tracks. The teaser single "Annual Dreams" is released on Sony Music for GSA and High Contrast/Be Yourself worldwide, including a high-class video, shooted in Italy-Rome.