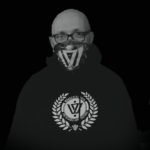 Music Producer / Performance
Available now on:
Infos:
Follow me:
He became well-known nationwide in 1999, when he was signed on the label Tracid Traxxx, which is operated by Kai Tracid, and his track "Auf dem Fresse" in Germany until the MediaComtrol Salescharts at position 37 and in the official dance charts 1 creates, published. Other successes followed, such as 10 small bass drums (2000) (Media Control Charts 41), Hardcore Will Never Die (2001) and several remixes for Kai Tracid, such as Destiny's Path or Too Many Times.
Markwort owns a record company called Fact Records and had severa years from 2000 – 2007 its own radio show called "Pick Up" on the radio station sunshine live in which all the greats of hard music gave the handle in the hand. From 1994 to 2000, he conducted the RPR 1 MaxiMal program with Tillmann Uhrmacher at Radio RPR in Ludwigshafen, which was the most influenced radio show for electronic music along with the HR 3 Clubnight.
Thanks to the RPR1 MaxiMal plays, many of the electronic charting successes were due to the fact that at that time there was only the HR3 Clubnight dedicated to this musk section.
From September 2007 to March 2008 he had on Radio Aktiv-FM the program Warmduscher & Friends, which was Europe via satellite and in many parts in the German-speaking countries additionally in the cable receivable. He also served as program director there. Other stations are waiting u.a. Just Base.FM and various other small guest appearances. As a DJ, he has in the past in many great clubs and raves (iu.a. Qlimax 2002, Qlubtempo 2007 (and organized in 2006 the A5 Karlsdorf bunker on the Nature One, where on all 3 days the number of visitors exploded.
A new podcast titled "Techno Classics – The Good Old Days" is in the planning stages and will be released regularly.
After a break from 2012 and founding a family, DJ Warmduscher is back in full swing.