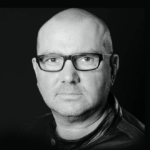 Music Producer / Performance
Available now on:
Infos:
Follow me:
Yves Deruyter started his DJ career in 1985 and played in famous Belgian clubs such as, Globe, Barocci, Cherrymoon, Illusion, Extreme, Carat, BBC, La Rocca and many more. He then embarked on a career in production in 1991.
Signing with Lightning Records his first single Animals released on Bonzai Records became a big club hit in Belgium. The success of his first track led to requests for him to play at all the big rave parties such as May Day, Energy, Love Parade, Street Parade, Nature One, Trance Energy, Mysteryland, Inner City, Sensation Black, Dance Valley, Groundzero, Frequence, Decibel Outdoor, Defcon, Gatecrasher, I love Techno, Antwerp is Burning, City Parade, Tomorrowland and many more.
Yves second single Rave City made a big jump into the German market and became a big success with more than 50.000 units sold. The follow up Calling Earth was again a success with 70.000 units sold. All this was the start of a successful story and A Story About House was to be the next Cherrymoon Trax single, but due to problems with the club it was changed into a new Yves Deruyter single. Nevertheless his follow up single, The Rebel, was immediately signed all over the world. The Rebel was a massive club tune and an international breakthrough for Yves. This single was also the announcement for his first album D-Album containing all the singles from past and showcasing his production skills for future releases. During this period he started to produce under Cherrymoon Trax with friends and partners from the Cherrymoon club where he was playing. Four Cherrymoon Trax singles followed starting with The House of House which was a huge success, the last single In My Electric House was again successful in Germany. All this led to the first 3D black and white video made by Frank Dewulf who became an important artist with his B-Sides releases.
Yves Deruyter's vision of his future in music is and will always be the same, making music for the people. For him it is important that people have fun while they're listening/dancing to his music. In the past he used to work with Frederico Santini, Dirk M.I.K.E. Dierickx (Push, The Blackmaster, M.I.KE., Moon Project, …). The single Rhythmic Bazz was released in June 2001, this single was taken of the album 2001 as well as Back to Earth. The follow-up single was Music-Nonstop, which also got a remix-package with remixes from Ton TB (Three Drives) and others. These releases have played a huge part in the trance club scene and have helped shape many careers in EDM.
Spiritual Feeling/Y.D.O.T., done pretty well all over Europe. And a re-release of Spiritual Feeling, which will also includes a Dolphin remix made with his friend Laurent Veronnez, also done well.
Yves awesome cover of Underworlds classic Born Slippy continues to be a hugely memorable track. The single Infinity followed and was picked up by a lot of compilations, radio shows and DJ's alike. Yves Deruyter is a very hard working DJ, regularly traveling Europe this man is in high demand for his skills. Yves has mixed and produced many compilations himself including mega mixes for Bonzai Records and a Timeless Trance CD also. Yves also found himself helping with the running of Banshee Worx alongside his long term friends and partners.
You will be sure to catch Yves somewhere around Europe during some weekend, unless he is having a little time off which doesn't happen very often.