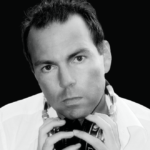 André Visior was lucky to be born and to grow up in the area of Frankfurt Main. Frankfurt is not only said to be one of the most thriving areas in Germany with highest life quality but also one of the cities that are the birthplace of German electronic music. Cult DJs such as Sven Vaeth or Talla 2XLC and legendary dance clubs like Omen or Dorian Gray influenced the scene more than anywhere else in the world. Here he was in the core of the dance scene at a very early age and was carried away by the at that time new music style. He fast built up a great understanding of sounds and did not only have a passion for simple Club-Technosound but also for productions of Jean Michel Jarre or real milestones in the electronic music, e.g. Electrica Salsa, one of the first productions of Sven Vaeth.
Very soon André Visior became clear that he wanted to change his place on the dance floor with the place behind the turntables. He spent his time learning the art of Dj-ing, bought his first records and at the age of 16 he already made his debut in front of an audience at the holy "Decks of Steel". Many further performances followed at small and bigger events and through the years he also played in the top-clubs: Techno Club Dorian Gray, Oxa in Zurich, Reaktor Buehl or Nature One. Even the radio stations HR3, well known for its "Clubnight", and Sunshine Live, today the most successful radio station for Dance music, booked André Visior for several events.
His first own single "Speed Up" – started very effectively. This track was licensed by Warner Music (east west Records) and reached position 34 in the German Media Control Charts. Several TV-performances followed on, e.g. at the "VIVA" programs "Clubrotation" and "Interaktiv", at "NBC Giga", "MTV" or "RTL". André Visior proved with his follow up single "Don't Go" that he is not a one hit wonder. The single reached position 47 of the Charts and was published in many countries, such as the USA. At the end of year 2003 André Visior managed his breakthrough and several scene magazines designated him as the "Newcomer of the Year".
Since that day he had several very successful releases also in cooperation with other producers like Dark Moon or Kay Stone. The actual single André Visior & Kay Stone "Sunrise" gave Armin van Buuren goose bumps when he first listened to it and made it as "Tune of the week" in his famous show A State of Trance.
Now is the time for a new solo single of André.
The track is called Moonraker and will be released in August 2011.
In 2015 André start again after a longer break, because of his little daughter. A lot of collaborations and new singles comin up.