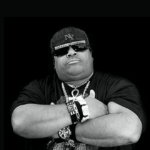 Afrika Islam came into this world in 1967, i the heart
of the Big Apple, N.Y.C. At a young age, one could see his professional
background in him and he soon became a member of Zulu Nation! His name
originates from his legendary musical father, Africa Bambaataa. The Hip Hope
culture, growing strong in NC C in the late 70's, was the force that inspired
Afrika Islam to start break dancing and rapping when he was only 10 year old.
From dancer and rapper of the cult formation "Rock Steady Crew", soon
he became the "Zulu- King".
Afrika Islam's D.J. ing career also began in 1977. times he won the
"International Annual DJ competition" and one can admire his skill as
dancer in movies like "Flashdance" and "Breaking 1+2". It
wad during these times that Afrika Islam Hooked up with Ice-T.
Both decided to co produce. Their fir4st production, called "Rhyme
Paqys" went gold, and then later to platinum. Following this success, they
compiled six (6)! more platinum releases. With Ice-T's cooperation, Afrika
Islam participated in many other projects in the Hip Hops sector. Los Angeles
became his new home base, where he performs his near cult status radio show
"Zulu Beats" on Power 106 FM/LA.
In the 1980's Afrika Islam successfully remixed songs from famous artists like
"the Eurythmics", Michael juckin Jackson, De la Soul, and Wu Tang
Clan.
IN the mid 1990's, Afrika Islam's popularity grew greatly in Europe. He
developed his own crossover sound: with music elements of R&B, Hip Hop,
Techno & House. With his extravagant style, he was booked on the 1995
Mayday event and from this gig, proceeded non-stop booking s in clubs and
events. In 1996/7, he formed up with the most popular DJ in Germany, Westbam.
The result: a project named "Mr. X and Mr. Y" that set the standards
in the electronic music sector for the next three years.
Afrika Islam and Westbam had created a new kind of "global sound."
Afrika Islam's DJ performance are unique. Very often, he works with 50 to 60
albums in a two hour performance. His mastery of presenting techno sound a la
Hip Hop style is behind his incredible success in many clubs all over Europe.
Afrika Islam now recedes three quarters of the year in Germany, with no plans
of changing in the future..