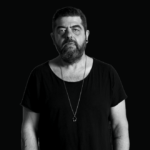 Music Producer / Performance
Available now on:
Infos:
Follow me:
Mario Più is a dj-producer from Livorno. He loves motorbikes, especially Harley Davidson ones, but he loves music so much that it's become his job too. Mario is a professional dj who was able to remain on the European music scene for over than ten years. His unmistakable sound has had an evolution, from the techno sound, well, house and electronic sound. And don't forget that Mario is one of those famous Italian djs from Toscana who gave their contribute to the techno sound confirm, with the Insomnia and the Bxr Superclub. Among his greatest successes we can remember "Mas Experience", "No Name", released with Mauro Picotto, "Dedicated" and the collaboration with More for "All I Need", "Sexy Rhythm" and "4Ever With Me". Then "Communication (Somebody Answer The Phone)", the track released with a gsm cellular interference, which conquered first the top of the Italian charts, it was remixed by Yomanda and finally it reached the 5th position in the Uk Sales Charts. Among his releases, we can remember "Arabian Pleasure" (with Mauro Picotto), and the remix of Dj Taucher "Science Fiction". After "Techno Harmony", "Armonia divina", and "Questions" (with the pseudonymous M-Plus), Mario realized "Love Game" and "Matrix", both with Principe Maurice on vocals. Mario loves to work with other dee jays too, and from a collaboration with Fabio Mc comes a double hit single like "Invaders/Away".
In 2001 Mario reached number 54 in DJ Mag's Top 100, while in England some authoritative magazines called him "The Italian Fatboy Slim" for his extraordinary creativity. His sound is appreciated in Italy and abroad, so we can meet him at the most important events in England, Germany, Holland and Switzerland. But who's Mario Più when he's not working? What does he like? He describes himself as a quiet person who loves sleeping, relaxing and listening to music, not just Techno one. Mario plays every important club in Europe and South America, but he says he'd like very much remixing a famous track, maybe of an artist he likes and admires. A brand new singles are "Devotion – C'era Una Volta Il west", a Ennio Morricone's remake, "Incanto per Ginevra" and "Champ Elisées".
His new single track, published on his own Fahrenheit label, is "I Don't Want To Come Back", co-produced and remixed by Andrea "Bucci Bag" Doria: this track is licensing on French label Hot Banana for British territory too (remixed by Kiko & Gino and played by Pete Tong listening in his Buzz Chart). Mario Più start up Fahrenheit for following the personal sound and he not collaborate with cheesy label. Only electronic music, on his label. The year 2005 open with a music publishing Mas Experience and a new brand label, Richter, and a single from a mind of the journalist Riccardo Sada and co-produced and remixed by Andrea Doria, "Tragically Lucid", by the British singer Lid Russel Bass. Mario have been released a remix of Steve Laweler's "That Sound". Other projets: the second compilation for Matrix Club and "Electronic Experience", a brand new cd compilation with a best of Mario's flycase, and the "Metempsicosi Compilation". Mario Più is back in the DJ Mag Top 100 of year 2005 at 38th position. Follow the rhythm other singles: "Moskow Diskow", remake of Telex's hit, and "Hal 9000" on Fahrenheit Music and "The House Carpenter"/"The Bedroom Carpenter" with Fetish Motel crew on Metempsicosi Music. The tenth Fht release is Mario Più, Ricky Fobis & Lady Brian "Isla Bonita". We move to Mario Più & Loaded "No Name Again" and Mario Più present Alex Catalani & Claudio Maura "Big Sucker", "High Performance" and "Ultracustom". The final cut is Mario Più present Alex Catalani & Claudio Maura "Cantada" on Uomo Records, label owned by Andreino of Mas Collective. Mario in 2009 win the Trend Magazine Award like a Italian Best DJ Producer. In 2011, along with other staff members Metempsicosi, is part of the casting of "Mezzanottemezzogiorno, " the feature film directed by Andrea Bertini.
In 2019 Mario più release a brand new single called P1ano on Mauro Picotto's label Alchemy and make a remix of the single Advantage by Mauro Picotto.
In 2022 reach beatport's top ten with the remake of his own single SERENDIPITY 2.0 David Nimmo Remix on the label Nocturnal Night and he still works with this label.