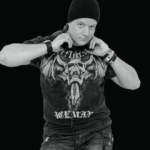 Music Producer / Performance
Available now on:
Infos:
Follow me:
Dennis "DJ Bonebreaker" Bohn is the producer of Germany's favourite dance icons Brooklyn Bounce. He has produced such hits as: "Get Ready To Bounce", "Loud & Proud", "Bass, Beats & Melody", "Crazy" and many more, which combined have sold over 4 million singles since 1996! He is regarded as one of the most important people in the German dance music scene. Brooklyn Bounce's great push into the limelight returned in 2000 with "Bass, Beats & Melody" which climbed to #3 on the dance charts and their fourth LP "Restart" were a wonderful climax to an exceptional production career. A career, that of course still goes on today. Singles like "Crazy", "X2X (We Want More)", "Sex, Bass & Rock'n'Roll", "Party Bounce" and also the Album "X-Pect The Un-X-Pected" continued the success story. The onset of the digital age and the change of the music industry did not stop his output.
For his work with Brooklyn Bounce, Bohn had been rewarded with one nomination for a VIVA TV COMET, an award, presented by Germany's major music television channel. Brooklyn Bounce had also been shortlisted twice for the ECHO, Germany's biggest music prize. Bohn is a multi-talented person. And to him, music is the most important thing in his life. As a producer, he learned everything about sound and recording; as a former A&R man in a music publishing company. Bohn was responsible for signing Grammy nominee Mousse T.
Besides touring the world as a DJ, he also started doing more more and more gigs together with MC Diablo especially big festivals are the main target for these kind of shows! On another level he started spinning Tech House, Deep House, Minimal and EDM Style as Dennis Bohn and also created his onw compilation-serie called "Electrolicious" which got featured and great chart results for example at itunes Germany!
With full force 2014, continues on with Brooklyn Bounce. After the very successful releases "Ravin" together with Giorno, two featuring songs on the new Nick Skitz Album "Turn It Up" and several remixes lined-up, there will a lot of music-output this year! Also a new album will be released soon with a lot of collaborations again and of course some original BB-Style tracks. As a DJ, he well keep on touring worldwide, bringing him to Russia, Hungary, Italy, Switzerland, Austria, Australia and many more countries.
Keep it bouncin' in 2014!
There are several options to book Brooklyn Bounce, please check the different packeges below:
1. DJ: DJ set (120 minutes)
2. DJ & MC: DJ set with Original Frontman as MC. Various styles of music, Brooklyn Bounce hits, classics (90 minutes)
3. Live: Live show, only with Brooklyn Bounce hits (30-40 minutes)
4. Live + DJ: Live show with normal DJ Set and MC (30-40 minutes show + 120 minutes DJ set)