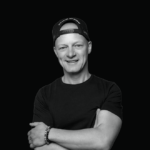 Music Producer / Performance
Available now on:
Infos:
Follow me:
Until 1987, Charly's teenage years were dominated by disco and italo music. His musical direction changed when he heard house music for the first time while vacationing in Blanes, Spain.
Since working with Mental Theo in 1992, Ramon's career has been going very fast, as his name implies. Who does not remember songs like: Wonderful Days, Stars, Hardcore Feelings, Your Smile and more.
For over eight years Charly and Theo traveled the world to spread their 'Happy Hardcore' sound.
In the late 1990s, Charly got tired of commercial music, and he started experimenting again in his studio with two old friends, Frank and Marcel.
Goal: to build a bridge between trance and hardcore.
They released a series of tracks under the name 'Deepack'. A new style was born. Today Hardstyle has been a very popular movement for almost eight years. In parallel, he co-founded the popular Dutch "Bitte ein Beat!" CD compilations and the 'Starsplash' project in collaboration with Franky Tunes.
After a "sabbatical" in 2005, when he wrote his personal life story "Autobiography of a DJ", which was published in the Netherlands in November 2007, he works again as a DJ. Usually in the Netherlands and in Germany. On November 1, 2009 Ramon published the book "Autobiography of a DJ", the German version of his Dutch biography.
In addition to his DJ activities, Charly has been a Zen meditation teacher at a school in The Hague since the beginning of 2009. Led by his teacher Raoul Destrée, he has meditated since 1999 and completed intensive training in monasteries and abbeys in the Netherlands, Belgium, Italy, Spain and France.
For two years now, Ramon has felt the joy and energy again and plays at festivals in Holland and Germany.
In 2019 he will be celebrating his 25th anniversary with Mental Theo in February and they have managed to sell out the Ziggo Dome in Amsterdam twice.