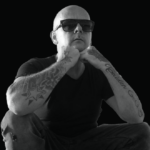 Music Producer / Performance
Available now on:
Infos:
Follow me:
THE GURU PROJECT formerly GURU JOSH PROJECT. Music has always been an integral part of Darren Bailie's life, growing up with a DJ for a father and his family heavily involved in music Darren started playing the drums at a very young age, he has rhythm ingrained into his very D.N.A! At the tender age of 16 Darren first stepped behind a pair of turn tables after being inspired by a scratch DJ at an underground rave, however it was when he first discovered house music shortly after that the passion for DJ'ing really took hold, and he has never looked back!
Darren has played to crowds across the globe and is always held in the highest regard for not only his technical skill as a DJ, but also his ability to read a crowd, to be able to take them on a journey as he builds the set and always leave them wanting more! Darren's mantra has always been that you should "play FOR a crowd and not AT them" and this is what makes him loved the world over! Darren ever imagines himself to be on a dance-floor as one of the clubbers when selecting tracks for his CD wallet.
In the studio Darren is no less impressive, his highest achievement to date is as the force behind Guru Josh Project's No.1 hit Infinity 2008, for which he was presented with an IDMA at the Miami Winter Music Conference! Recently Darren has been working on remix's for the likes Boy George's "Amazing Grace", Tim Berg's "Bromance" and many more, as well as a number of high profile collaborations and his own solo work!