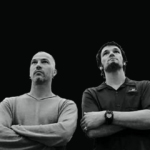 Music Producer / Performance
Available now on:
Infos:
Follow me:
In Summer 1991, Claus Pieper and Oliver Kuntzer decided to put their own musical ideas down. Up until then they had both been working as DJs. Immediately after their initial session, they got together with Ingo Kays to form Genlog. The team started pooling their ideas and producing sounds that were really worth hearing and majorly danceable. In fact, their very first release, the "Mockmoon EP" with the rave hymn "Mockmoon" brought the imheir live act created a senmediate breakthrough in the national and international Technohouse scene. It earned them their first Invitation to the biggest house techno party of the time, Mayday.
Tsation – the 30.000 ravers went completely mad. From then on, they toured the European rave scene non-stop. In 1993, Genlog moved over from "Music Man" in
Belgium to Low Spirit in Berlin. After releases like "House for you and me", Revolution", "It feels so" Genlog separated by Ingo Kays had shrunk back to its original size and was consisting of the partners Claus and Olli again. They released their own tracks such as "Eiskalt", "Airwalk", "Ceasefire" , "Face da Music"
and their latest single "More Music". They are of course interested in other artist's tracks as well.
They have their own studio "Smoke and Dream Studios" where they produced remixes of such famous acts as Marusha (Somewhere over the Rainbow), RMB (Redemption), Emanuel Top (Turkish Bazar), Alien Factory (Oet the Future) or Hooligan (Sueno Futuro), much to the pleasure of their many fans. But the big surprise came when they released their latest album "Alive and Kicking" with Low Spirit. This disc exposes a completely new aspect of their musical talent.
Here they have spoilt their listeners' ears with the very best TripHop sounds imaginable. And how did the fans react? Their last tour drew big crowds, at the "Life
on Mars" Mayday, people just could not hold still and the album sold amazingly well. The follow up, the longplayer "Rosa Lauschen", was released in 1998 and sold just as good. In 1998, Genlog stopped working with the label Low Spirit and released a downbeat-Album "Kemiri" (Strichcode Records) in 2000. In the following time Genlog produced a lot of remixes for artists like "Music Instructor", "Griesse", "Two Chicks On The Next Floor" etc… They also released under differend project names like Atropin Project, Butter & Steel, Lilo S., Eigenart and Spellbound.
2002, the classic tune "Mockmoon" has been re-released (April 2002) on Alphabet City with remixes by Erik Vee and Rave Allstars. Plus: Genlog was back on track and they return with a new 12": "This Is Not A Lovesong" was released by Urban/Universal exclusive for the German, Austrian and Swiss market.
Available now on:
Infos:
Follow me:
Having spun on various stages across the world, Belgian born GHO$T (Bjorn Wendelen), is destined for greatness.
Though his refreshing sound that is characterized by Belgian old school sounds & energetic drops GHO$T has created a recipe for happiness.
His productions are received with great praise and resulted in several chartings from colleagues like Dimitri Vegas & Like Mike, Tiesto, Laidback luke, Ummet Ozcan, to name a few.
Having an epic history in the scene with plays on every edition of Tomorrowland and playing all over the world, this musical chameleon will be in the electronic dance scene for years to come!