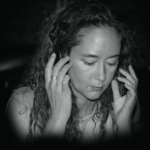 Music Producer / Performance
Available now on:
Infos:
Follow me:
After successfully finishing school having gained her German "Abitur", she began to study medicine, but she never quite managed to suppress her awakened passion for techno music. In 1995 she became resident DJ in the famous 'Poison Club/Düsseldorf'. At the same time her ambitions became focussed towards creating her own record productions. Just a short time later, in association with Chris Liebing and Andrew Wooden, she brought out her first release "La Folie" (Global Ambition) which completely reflected her unique style – a mixture of pumping, progressive grooves and techno URSOUND.
As Nathalie particularly loves her independence and is very single-minded, she got together with Eric Wesenberg to set up a joined studio, so that she was able to pursue her artistic ambitions at all times. The next bit of success was just round the corner: Helped by her contact Ian Pooley, she was able to cut a deal with the cult label 'Force Inc. US' and the subsequent release "Nathalie de Borah-Heart but House" acquired cult status.
Her career was "crowned" at Mayday 99, Mayday 2000 und Mayday 2001 (Westfalen Hallen/Dortmund). Nathalie de Borah had thus been finally admitted to the 'DJ Olympians'.
Up until today, she has launched about thirty releases. Remixes and various projects such as "Die Telematiker-Need no Sleep" (a track which even became the hymn of the Street Parade'/Zurich 2001!) prove her versatility and demonstrate a wide musical variety of music productions. Her co-producers have included Ramon Zenker (Hardfloor), Olaf Wollschläger (Vorsprung durch Technik) and L.U.P.O. (Low Spirit Posse). The results of these explosive artistic mergers range from 'Pumping Progressive Sound' to electro to modern Ursound-Techno.
In all releases you can always detect the individual mark of Nathalie de Borah's dynamic style.