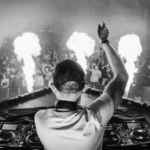 Uwe Wagenknecht aka Dj Wag
Arists
Music Producer / Performance
Available now on:
Infos:
Follow me:
Started his DJ career in 1989 in a club called Lopos Werkstatt in Darmstadt Germany, where he was a resident DJ for 4 years. His predecessor DJ in the club was the producer of Culture beat (Mr Vain) Torsten Fenslau. It was on his label (Abfahrt) he launched his first vinyl.
In the Airport Club (Dorian Gray) in Frankfurt he got to know DJ Talla 2xlc and produced on his labels (Suck Me Plasma & Tetsuo) until 1997. Once in a while he was booked by Talla 2xlc for the legendary Technoclub/Dorian Gray, at that time as famous as the Gatecrasher club in England today.
By playing at the club Paramount Park Germany 4000 square meters close to Frankfurt Germany in 1997 he came in contact with the label Overdose. His first DJ Wag single "Man on the Moon", released 1998, was an instant hit known to any trance and hard trance producer on this planet, even today. More titles followed, like "Life on Mars", "The Darkness", The big bang, Musik Non Stop, The Day The Earth Caught Fire, Getting High
His second project (Yakooza) with Overdose was also very successful, with a mega club burner in many countries including the charts, titled "Cocaine , French Kiss and Lovin U, I wanna Feel".
Wag travels the world with his sets as DJ Wag aka Yakooza. In June and July 2002 he made his first and very successful Yakooza tour in Australia followed by additional tours.
2004 and 2005 saw him join Australia's leading Trance DJ Nervous on national tours through Australia and New Zealand as part of Transmission, Australia's number 1 over 18's Trance party. With CD sales continually out-selling the previous releases it's no wonder he already has a 3 month world tour done in October, November and December in 2005 and launched his first ever Artist Album (GLOBAL) and did a another Compilation Tour (GENERATIONEXT) 2007/2008 and mixed them together with Australiens Shooting Star DJ TIDY from the famous Club Family in Brisbane .
Another successful tour was also accomplished in 2002, and 2003 in Japan with Dj Sakin and Scot Project..
DJ WAG has also played in the United States in Miami at the club Shadow Lounge and the Club Level or in Washington DC the Club Glow also in Boston and Puerto Rico, he
th
played in China & Hong Kong New Years Eve and New Years day 2005/06 and had 30 December 2006 his Debut in Toronto/Canada`s amazing Club Viva.
In addition to that several appearances in Switzerland, many gigs in England, South Africa and Netherland at Q-Dance Parties & Gigadance Festival and one great trip to Cali, Colombia has helped him spread the word of Trance across the globe.
On the 05.08.2006 Dj Wag gave the Debut on the biggest event in Germany and played at NATURE ONE and as well Dj Wag play regulary at the TUNNEL Club in Hamburg with the famous German DJ and Producer DJ DEAN.
In August 2007 played DJ WAG with Ferry Corsten and Talla2XLC on the Legendary Cruise Ship (Monday Bar) from Stockholm (Sweden to Finnland)
During the years he has played with DJ's like George Acosta from USA, Cosmic Gate, Marcel Woods, Sven Vaeth, Scot Project, Yogi Biomehanika, Steve Hill, Johan Gielen, Sander van Doorn, Organ Doners, Commander Tom, Ferry Corsten, Talla 2XLC, Dr.WILLIS and many many more.
DJ Wag has launched his own record label TRAFFIC-TUNES in June 2005 with the first release YAKOOZA – I WANNA FEEL with a DJ Wag mix and also a Scot Project Mix.
Biggest Hits of Dj Wag : Yakooza – Cocaine, Dj Wag – Life On Mars, Dj Wag – Man On The Moon