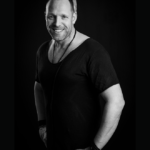 Music Producer / Performance
Available now on:
Infos:
Follow me:
In a very short time, the name Uli Poeppelbaum could be established in the international techno scene with remixes for Joy Kitikonti (Italy), BK (UK), Lambda (Holland), Lfo (uk), Tom Wilson (UK) and Badlands (GER) traded by M & A.
Through a specific booking engagement, Uli Poeppelbaum was placed on scene events such as nature one (Slinky Floor), Mixery Dancefield (together with Umek from Slovenia), Exposure Festival together with Chris Liebing and Dr.Motte.
Currently, a residency is being negotiated with the techno-club Schallkraft in Lehr.
For his first solo EP called Stereo Poems chapter One, for which you could win the label alphabet city as a partner, m & a managed to contribute a Filterheadz remix.
AKA SPACEKID:
Solo singles and 25 remixes after 8, among others for atb, dj isaac, outhere brothers, tom wilson, voodoo & serano, silvio ecomo, bad habit boys, 666, quench; two usa tours supporting atb, meanwhile he understands everyone in the industry and the music scene. Not only as a resident in the tarmac center in bochum, but also in the most diverse clubs and raves in the world you could place him with m & a as dj.
Mix coupling for the dj meeting 2000.
Top of the clubs contor vol.5 mix-linking together with atb as a sq 1-dj team
AKA CHEKERZ:
Remixes for Jason Nevins, Danny Disco …
Chart success sales charts holland # 100 with the first single "Kick Your Legs".
Song to the Dutch reality soup "The Bus".
The Hymn for all Dutch kickboxing clubs during warm-up training