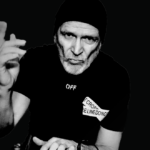 Jam El Mar (Jam & Spoon)
Arists
Music Producer / Performance
Available now on:
Infos:
Follow me:
Rolf Ellmer, better known as Jam El Mar, is a classically trained concert-guitarist, producer and DJ. Born in the german city of Karlsruhe, the family soon moved to Frankfurt, where he inspired by guitarist Jimi Hendrix, began his classical training.
Fascinated by the technical side of music production, it was not long before he replaced his live guitar performances with synthesizers and studio work. Rolf Ellmer had his first release in 1990! The Trance single "We Came In Peace" was released under his collaborative project "Dance 2 Trance" (with DJ Dag).
Not long here after he meet compatriot, producer and DJ Markus Löffel (Mark Spoon). Starting out as a remix duo for acts such as "Dr. Alban" (No Coke/U And Mi), they soon founded the worldwide renowned electronic music duo, Jam & Spoon. The production duo Löffel/Ellmer had a pioneering influence on the european Trance and Techno scene since the early 90'ies. When his Jam & Spoon production partner Markus Löffel (Mark Spoon) passed away in 2006, he continued playing to honour and remember him.
As a producer and songwriter Jam El Mar had his first international successful album release in 1991: 'The Power Of Rhythm', by rapper/eurodance artist "B.G. The Prince Of Rap". The album reached modest success in german clubs crossing over to America where the single "This Beat Is Hot" topped the Billboard Hot 100 and singles charts in 1991. Second album 'The Time Is Now' – incl. "The Colour of My Dreams" – followed in 1994.
Jam El Mar has achieved international acknowledgement, Gold and Platinum awards for his recorded works under a multitude of well-known aliases: Besides "Jam & Spoon" collaborative projects such as "Storm" (Stormjunkie), and "Tokyo Ghetto Pussy".
Since 2012, Jam El Mar is actively involved in both studio work and DJing (which also includes playing live sets). Prestigious events such as Tomorrowland, Mayday, Nature One, Parookaville and many more, frequently ask him to perform retro-sets featuring tracks of yesteryear or current Techno sets.
His style ranges from true retro-sets that includes Techno and Trance smashers from the 90'ies to contemporary, groovy Techno and Trance.