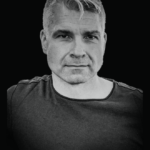 Music Producer / Performance
Available now on:
Images Gallery: No images found
Infos:
Follow me:
In 1987 Marco Zaffarano came into contact with acid records for the first time, which strongly influenced him.
From then on he spent 3 years in a Stuttgart dance school and looked for a suitable playground to live out his love for electronic music.
From 1990 he was resident at the Techno Club "Oz" in Stuttgart. In the same year he started working in the studio.
In 1992 he was discovered by Sven Väth and a whole series of releases followed on Väth's cult label Harthouse.
In 1993 Zaffarano quit its job due to the strong increase in booking requests in the "Oz" and began to appear on an international level.
At that time Marco was one of the most sought after German DJ´s abroad.
But also here in Germany he was booked for the big festivals like MAYDAY and Tribal Gathering.
In 1995 he released his tracks on the Berlin label MFS where his first album "He was once a beautiful Woman" was released in 1996.
The second album was released in 1998, along with a collection of his most successful harthouse productions from 1992 to 1995.
In 2000 he switched to Mauro Picotto's BXR label. Here he released some very successful records.
In 2002 Marco launched his own label Anima Records and supported young artists like Sascha Barth, Darko Vrabac, DJ Smilla.
Since 2008 the work in the studio has been resting, but Marco still played internationally and is still regularly booked to Austria, UK and the Czech Republic.
New productions in the studio are scheduled for 2019.