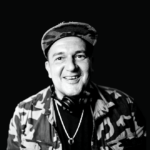 Music Producer / Performance
Available now on:
Infos:
Follow me:
Slobodan Petrovic Jr. aka PULSEDRIVER – born in Germany's Schleswig-Holstein but with his roots in Bosnia Herzegovina. During the course of his career, this pleasant and charismatic DJ, producer and label owner (Aqualoop Records/Feed My Beat Records) has managed to make a face for himself as an Artist in what is often a "faceless" Dance music industry.
At the age of 15 he started DJing in youth clubs and at parties, which he was already organising himself …. By the beginning of the '90s he had already established himself in the exploding Dance scene under his nickname TIBBY and within a very short space of time he became a popular DJ in the top club locations in Germany.
In 1993 he started producing his own songs under different alias which quickly became true club hymns.
In 1997 the project PULSEDRIVER was born.
The first Single RHYTHMIC TRIP grabbed the attention of the international Club and Rave Scene and with the follow-up releases TIME MACHINE and I'M RUSHIN' the project PULSEDRIVER became one of the top established club acts. Bookings followed for live performances and DJ-ing throughout Europe …..
The first commercial success came with the Single KISS THAT SOUND, starting with sensational positions in the Dance charts and then his first entry into the German Sales charts. The path of success continued to rise with the follow-up releases I DOMINATE U, TAKE U HIGH and YOUR SPIRIT IS SHINING. The Single CAMBODIA gave him his first Top 10 Single in Germany, a Top 5 Single in Austria and achieved chart positions in the whole of Europe! Further Singles, such as DIN DAA DAA, TIME, MOVE FOR FREEDOM, GALAXY, VAGABONDS, SLAMMIN', INSANE or BEAT BANGS as well as the Albums SELECTED, SEQUENCE and NIGHT MOVES and side projects like TOPMODELZ, ROCCO, LIMELIGHT or LOVESTERN GALAKTICA all made it into the Sales Charts
PULSEDRIVER was named "Best National Remixer" and his remixes helped numerous famous acts e.g. KIM WILDE, LASGO, IAN VAN DAHL, MILK INC., TWENTY 4 SEVEN, VENGABOYS, U96 or SINEAD O'CONNOR have club successes. In the meantime PULSEDRIVER has had made over 200 remixes for acts worldwide.
At the beginning of this new century PULSEDRIVER founded the label AQUALOOP RECORDS in order to give his ideas and experience as a producer an own platform. The label became on the of the most successful Dance Labels in Germany within a very short period of time and has already managed to have over 30 releases featured in international sales charts.
In 2013 PULSEDRIVER founded another label called FEED MY BEAT RECORDS a platform for club oriented productions.
Nowadays PULSEDRIVER belongs, with lots of national and international bookings each year, to the upper echelons of the music business… These are some of places he has DJed over the years : Singapore, Japan, Russia, Rumania, Poland, Hungary, Czech Republic, Slowakia, Spain, Italy, Holland, Austria, Switzerland, Norway, Sweden, Denmark, Lithuania, Estonia and almost all locations in Germany