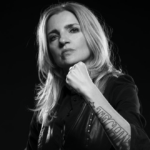 Music Producer / Performance
Available now on:
Infos:
Follow me:
Miss Djax is the alias of Saskia Slegers. Not only an excellent deejay, she is also the founder of Djax records, a label every real techno, acid, or dance freak in general should have heard of. Releasing constantly new underground music, Djax has built a reputation that stands solid as a rock and has placed Eindhoven (Acidhoven) on the world's electronic music map.
Djax (and its variety of sub-labels) must undoubtedly be considered as one of the most important dance labels in the world. At the back of the book '1989 – 1999 Djax Records The Power of the Underground' James Hymann, (MTV Europe) calls it 'one of the decade's crucial labels' and further 'one of the world's most talked about labels'. People like Felix da Housecat, Justin Berkovi, Claude Young, Luke Slater, DJ Rush and off course Miss Djax herself have released tracks on Djax. No surprise then, Djax received many awards being best record label.
Beside running her very successful label, Saskia is, as mentioned, also a very popular international deejay. For many years she somewhere appeared on a list of international dj of the year, always top ten, always accompanied by people like Jeff Mills, Richie Hawtin, Laurent Garnier, Carl Cox and so on. She has played all over the world and on all major events worldwide.
A few examples? She closed two times at the Victory Tower at the Love Parade, she also played four times at the Love Nation party on the Love Parade, six times at Mayday, four times at Nature One, I Love Techno, Innercity and so on, so what need we say more?