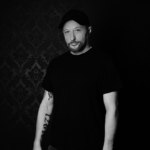 Music Producer / Performance
Available now on:
Infos:
Follow me:
Electronic music project DJ Sakin & Friends were founded in 1998. Initially as a trio, consisting of Turkish-German DJ and producer Sakin Bozkurt, producer Torsten Stenzel (years 98-07), and singer-songwriter Janet Taylor.
Their debut single Protect Your Mind (Braveheart) – a Trance music version of James Horner's For The Love Of A Princess composition for Mel Gibson's 'Braveheart' – reached top positions in the German singles chart and became a huge hit throughout Europe in 1998. 'Protect Your Mind' achieved gold status and was nominated at the 1999 'Echo Awards' in the category "Best Dance Single (National)". To date the single has sold over 700.000 units, making it a timeless classic and one of the most beloved trance tracks of the 90´s.
DJ Sakin & Friends' second single Nomansland (David's Song) continued their theme of melodic, cinematic trance music. The track was inspired by the TV Mini-series "The Adventures Of David Balfour" (1978) due to it's superb main theme David's Song, composed by Romanian-French composer Vladimir Cosma.
These tracks, including third single Dragonfly, were collected on the successful DJ Sakin & Friends debut album Walk On Fire, released in 1999.