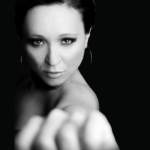 Music Producer / Performance
Available now on:
Infos:
Follow me:
With 20 Gold, & 6 Platin Awards and several other Awards is she the leader in switzerlands Dance industrie. The self-made artist was born on 7th October 1976 in former Czechoslovakia. Whilst at school she played various different instruments and was already developing a sensitive feel for music. She also attended dancing school for ballet and jazz. In May 1994, at the tender age of seventeen, she had the first opportunity to impress everyone with her musical abilities during a party at Groodonia in Rümlang (Switzerland).
In 1997 Tatana produced her own first record, released on Liquid Records, produced in Frankfurt's Polaris-Studio, along with the German star-producer Torsten Stenzel (Taucher, DJ Sakin & Friends, Redlight District, York). On the 8th of August 1998, she completed a set at the Street Parade and at the mega-rave Energy 98, the biggest annual events of their kind in Switzerland.
Ever since Tatana Sterba mixed the "Live At Street Parade" CD in 1998 she became the icon of Trance in Switzerland. And also Win the Swiss DJ Award in 1998 and 1999. Her second production, "Tatana – The second Chapter E.P" followed at the end of August 1998 on Liquid Records. In November 1998, Tatana's first own Mix-CD, Tatana "The Mix Vol. 1" (Warner), was released. In 1999 she produced the single "End of Time" along with DJ Energy and signed to Data/Ministry of Sound and it became a world smadhing Hit. In April she mixed the Goliath CD while in the summer, she was offered the chance to produce the official main mix-CD for Street Parade in Zurich, along with its anthem, "More Than Words" (Position 13th / Sales Charts).
In 2000 she released her Mix-CD 24 Karat, which reached ninth place in the official Swiss charts. She managed to conquer the Swiss market right away with her next Mix-CD, "Pure Elements" The follow-up Mix-Album, "Pink Punk" (released May 2001) made it tonumber five in the album charts and paved the way for the decisive success of "Superpop" (Platinum Award/Position Nr. 2) and the most successful Swiss dance hit ever "Words". "Words" has been released worldwide and was awarded with a Gold-status award. Beside all this, she also walked off with a Platinum award for the Energy 2001 Compilation, and gold for Energy 2002. The World Smasher Words, became a Top 10 Hit in more then 10 Countrys. In the same Year in switzerland, Producing for the World known brand Coca Cola, an Anthem Cant beat this Feeling, for the swiss Coca Cola Compilation and off course doing a remix for the Known Anthem (Allways Coco Cola) She whas Branded with her Name TATANA on more than 18 Million Coca Cola Bottles.
Wildlife (2003), which featured the single "Moments" rocketed to the number one spot of the Swiss Album Charts, Marco co-produced the first nr. 1 album of the Swiss female DJ. Not less successful were DJ Tatana's mixes for the Energy annual compilation (01, 02 and 04), the platinum selling Energy 03 double-cd (together with DJ Energy) and the Street Parade 04 compilation (platinum award for over 50,000 units sold). With another club burner "Soul Cry" together with hit producer Ron Van den Beuken in his project The Mystery, Tatana released her first record on Spinnin Records. Her Career Gained enormes Success with Gigs all over the Globe, from London, Peru, Amsterdam, Los Angeles, Korea, India, Poland and many more. In the Summer of 2004 Tatana produced a remix together with BT for Trance supremo DJ Tiesto, of his hit "Love Comes Again" For the Swiss Trance Queen, now reaching the status of Switzerland's most successful DJ ever. In 2005 The car-maker Seat, released and sold out in a few weeks a unique DJ Tatana Edition Seat Leon car.
In the mean time, during the summer of 2005, Tatana once again delivered with "Today Is Tomorrow" a summer hit that went to position 10 of Switzerland's Airplay Charts and Sales Charts and was produced for the annual Dance festival Street Parade 2005, which included the release of a Platinum-awarded Street Parade 2005 Compilation Since 2005, the star also has her own TV show on VIVA Television. In the autumn of 2005 she was featured on a new TV ad-campaign for SWISS International Airlines and also had collaborations with XBox360's main game Perfect Dark Zero with the official theme- and single-release called "If I could". 2006 she remixed CJ Stone's new single "City Lights" while in October DJ Tatana reached 74th position on UK's DJ Mag Top100 Poll of world-wide DJ's, the first time that a Swiss DJ entered this chart.
The truly global reach of the artist was highlighted by votes coming in from 147 different Countries In 2007 Tatana's road to Swiss fame and dominance as a DJ was highlighted by her headlining the first ever DJ live show at Zurich's Hauptbanhof Train station, where all her hits were played live by an orchestra in front of a crowd of 5000 passionate fans In 2008 Tatana decided to take a long needed Break from her work as Switzeland's Queen of Trance. Nonetheless, Tatana managed to release her album Tatana: Tatana. The track "Spring Breeze" quickly gained momentum having been played continuously by DJ Tiesto and being featured on Armin Van Buuren's "State of Trance" album Today, and in 2009 Tatana will be continuing her career on a full time basis. Remixes of tracks featured in her 2008 album are now already available on Beatport. 2009 promises to be another successful year for the artist.
Till Today she has released more then 15 Albums, 20 Mix Compilations and even more then 110 Singles, not to mension several Remixes with more than 500`000 Sold records and 5 times number 1 in the Swiss Album Charts, shes still the Leader in the Swiss Dance Industire.